Cheap price hdpe geocell gravel grid web for stabilizer
Product Description
#detail_decorate_root .magic-0{margin-bottom:10px;overflow:hidden}#detail_decorate_root .magic-1{border-bottom-style:none;border-bottom-color:#56b786;font-family:Verdana;font-size:24px;color:#fff;background-color:#56b786;text-align:center;font-style:normal;font-weight:bold;border-bottom-width:2px;padding-top:8px;padding-bottom:4px}#detail_decorate_root .magic-2{vertical-align:top}#detail_decorate_root .magic-3{vertical-align:top;display:inline-block;padding-right:4px;width:50%;box-sizing:border-box;margin-bottom:-4px;padding-left:4px;margin-top:-4px}#detail_decorate_root .magic-4{vertical-align:top;box-sizing:border-box;padding-top:4px}#detail_decorate_root .magic-5{width:371px;height:371px;overflow:hidden}#detail_decorate_root .magic-6{position:relative;left:0;top:0;width:371px;height:371px}#detail_decorate_root .magic-7{vertical-align:top;padding-bottom:4px;box-sizing:border-box;padding-top:4px}#detail_decorate_root .magic-8{padding:0;margin:0;white-space:pre-wrap;font-size:14px}#detail_decorate_root .magic-9{text-align:center}#detail_decorate_root .magic-10{font-family:inherit;font-size:inherit;font-style:inherit;font-variant-ligatures:inherit;font-variant-caps:inherit}#detail_decorate_root .magic-11{position:relative;left:35px;top:-3px;width:371px;height:371px}#detail_decorate_root .magic-12{padding:0;margin:0;color:#333;font-size:14px;line-height:20px;font-weight:bold;white-space:pre-wrap}#detail_decorate_root .magic-13{vertical-align:top;display:inline-block;padding-right:4px;width:50%;box-sizing:border-box;margin-bottom:-4px;padding-left:0;margin-top:-4px}#detail_decorate_root .magic-14{width:375px;height:193px;overflow:hidden}#detail_decorate_root .magic-15{position:relative;left:36px;top:-68px;width:288px;height:288px}#detail_decorate_root .magic-16{vertical-align:top;display:inline-block;padding-right:4px;width:50%;box-sizing:border-box;margin-bottom:-4px;padding-left:0;margin-top:-4px;margin-left:-3px}#detail_decorate_root .magic-17{width:364px;border-collapse:collapse}#detail_decorate_root .magic-18{min-height:18px;padding:5px 10px;width:128px;min-height:18px;box-sizing:content-box}#detail_decorate_root .magic-19{font-size:12px}#detail_decorate_root .magic-20{min-height:18px;padding:5px 10px;width:199px;min-height:18px;box-sizing:content-box}#detail_decorate_root .magic-21{color:#333;font-family:Roboto,"Helvetica Neue",Helvetica,Tahoma,Arial,"PingFang SC","Microsoft YaHei";font-size:14px;font-style:normal;font-variant-ligatures:normal;font-variant-caps:normal;font-weight:400;letter-spacing:normal;orphans:2;text-align:start;text-indent:0;text-transform:none;white-space:normal;widows:2;word-spacing:0;-webkit-text-stroke-width:0;background-color:#f7f8fa;text-decoration-style:initial;text-decoration-color:initial;display:inline !important;float:none}#detail_decorate_root .magic-22{min-height:18px;padding:5px 10px;width:129px;min-height:18px;box-sizing:content-box}#detail_decorate_root .magic-23{width:750px}#detail_decorate_root .magic-24{overflow:hidden;width:750px;height:598.8461538461538px;margin-top:0;margin-bottom:0;margin-left:0;margin-right:0}#detail_decorate_root .magic-25{margin-top:45px;margin-left:68px;width:650px;height:519px}#detail_decorate_root .magic-26{font-size:16px}#detail_decorate_root .magic-27{overflow:hidden;width:750px;height:520px;margin-top:0;margin-bottom:0;margin-left:0;margin-right:0}#detail_decorate_root .magic-28{margin-top:0;margin-left:-2px;width:750px;height:682.5px}#detail_decorate_root .magic-29{overflow:hidden;width:373px;height:373px;margin-top:0;margin-bottom:0;margin-left:0;margin-right:0}#detail_decorate_root .magic-30{margin-top:0;margin-left:0;width:373px;height:373px}#detail_decorate_root .magic-31{overflow:hidden;width:373px;height:373px;margin-top:0;margin-bottom:0;margin-left:4px;margin-right:0}#detail_decorate_root .magic-32{margin-top:0;margin-left:0;width:373.46683354192743px;height:373px}#detail_decorate_root .magic-33{overflow:hidden;width:750px;height:714px;margin-top:0;margin-bottom:0;margin-left:0;margin-right:0}#detail_decorate_root .magic-34{margin-top:0;margin-left:0;width:750px;height:714px}#detail_decorate_root .magic-35{width:446px}#detail_decorate_root .magic-36{overflow:hidden;width:446px;height:297.0478933333333px;margin-top:0;margin-bottom:0;margin-left:0;margin-right:0}#detail_decorate_root .magic-37{margin-top:0;margin-left:0;width:530px;height:297px}#detail_decorate_root .magic-38{width:300px;display:flex;flex-direction:column;margin-right:0;margin-left:4px}#detail_decorate_root .magic-39{font-size:18px}#detail_decorate_root .magic-40{width:300px;display:flex;flex-direction:column;margin-right:4px;margin-left:0}#detail_decorate_root .magic-41{margin-top:9.514666666666667px;margin-left:-60.656px;width:503px;height:281px}#detail_decorate_root .magic-42{overflow:hidden;width:446px;height:250.5033333333333px;margin-top:0;margin-bottom:0;margin-left:0;margin-right:0}#detail_decorate_root .magic-43{margin-top:0;margin-left:0;width:445.99999999999994px;height:250.5033333333333px}#detail_decorate_root .magic-44{overflow:hidden;width:750px;height:421.875px;margin-top:0;margin-bottom:0;margin-left:0;margin-right:0}#detail_decorate_root .magic-45{margin-top:0;margin-left:0;width:750px;height:421.875px}#detail_decorate_root .magic-46{overflow:hidden;width:750px;height:225.9791122715405px;margin-top:0;margin-bottom:4px;margin-left:0;margin-right:0}#detail_decorate_root .magic-47{margin-top:0;margin-left:0;width:750px;height:225.9791122715405px}#detail_decorate_root .magic-48{overflow:hidden;width:373px;height:400px;margin-top:0;margin-bottom:0;margin-left:0;margin-right:0}#detail_decorate_root .magic-49{margin-top:0;margin-left:0;width:373px;height:400px}#detail_decorate_root .magic-50{overflow:hidden;width:373px;height:400px;margin-top:0;margin-bottom:0;margin-left:4px;margin-right:0}#detail_decorate_root .magic-51{vertical-align:top;display:block;padding-right:4px;box-sizing:border-box;padding-left:4px} Product Display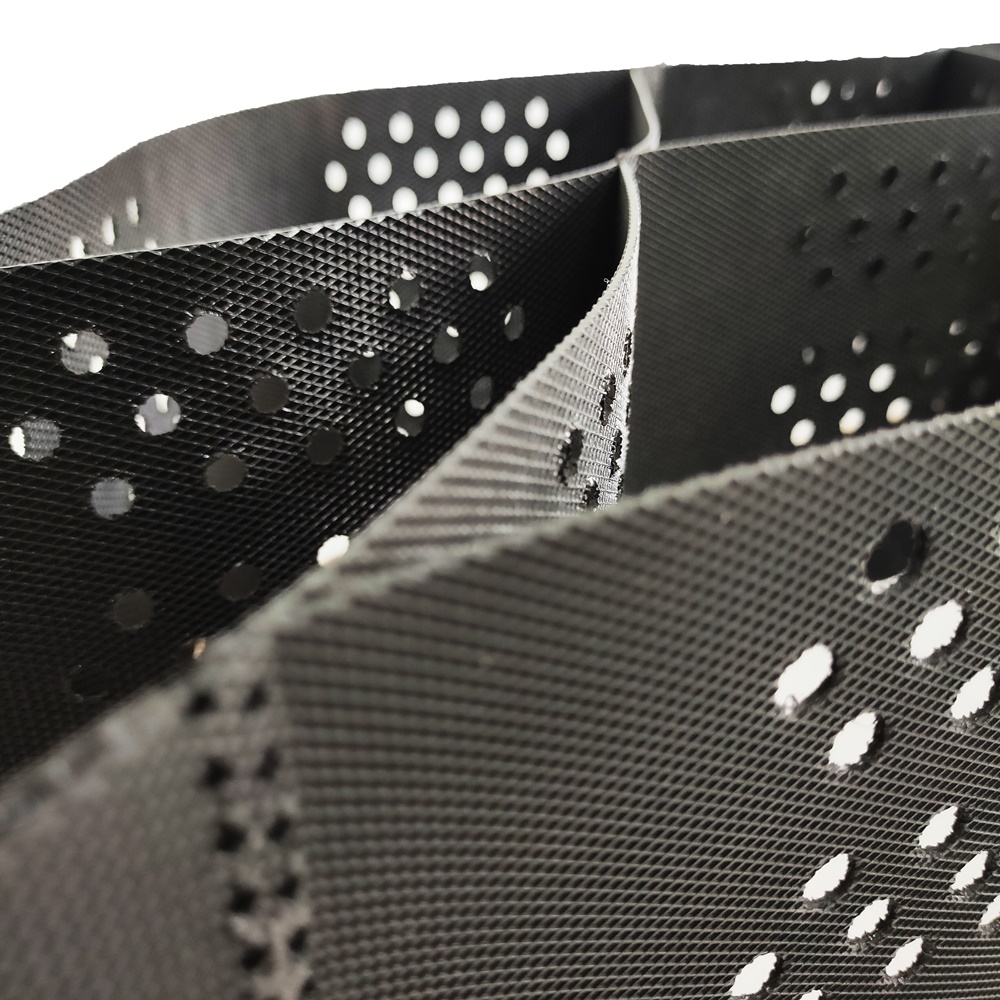 Textured & Perforated
HDPE Geocell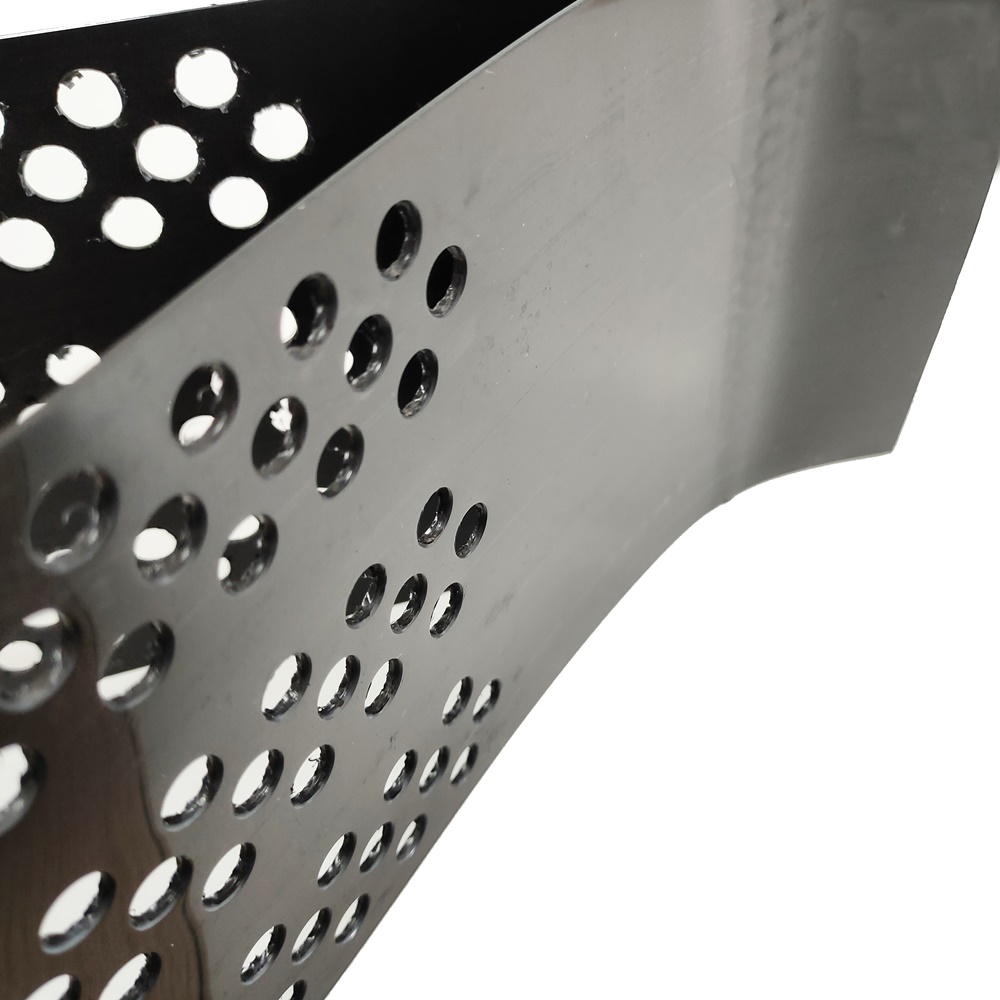 Smooth & Perforated HDPE Geocell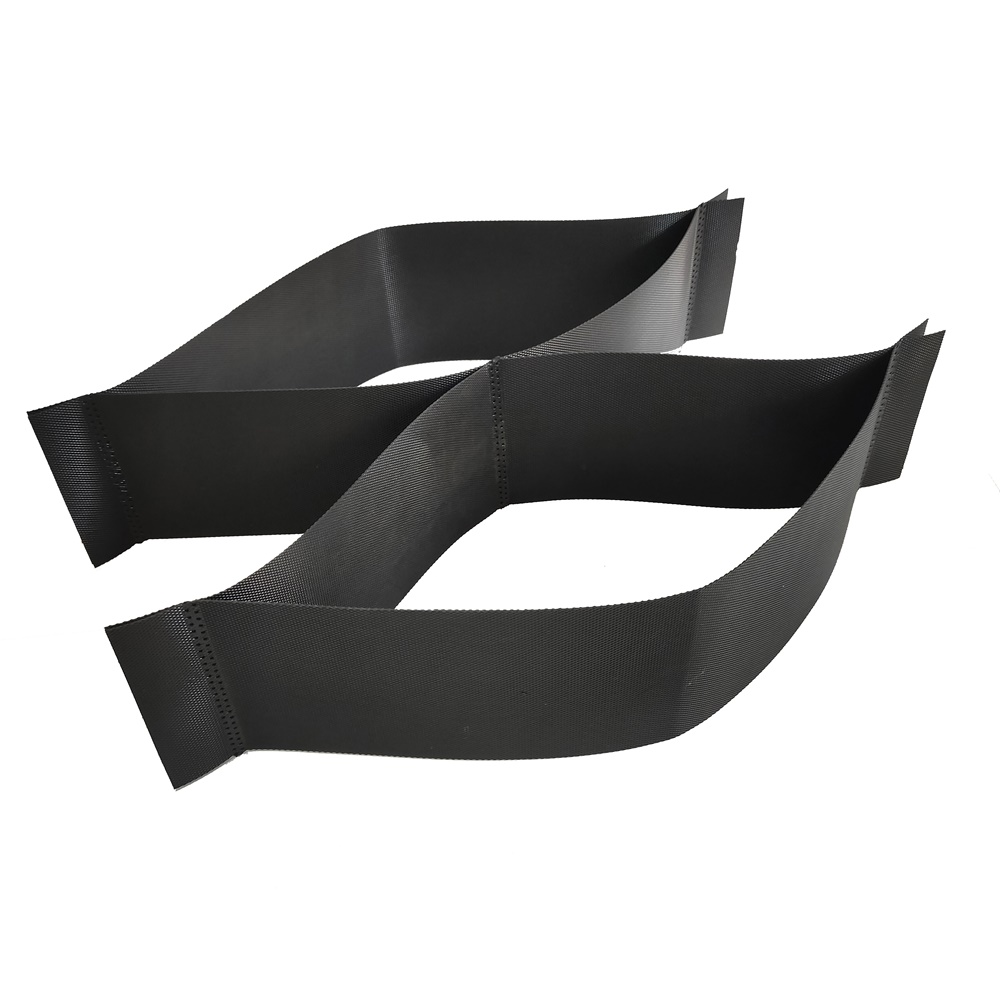 Textured & Non-perforated HDPE geocell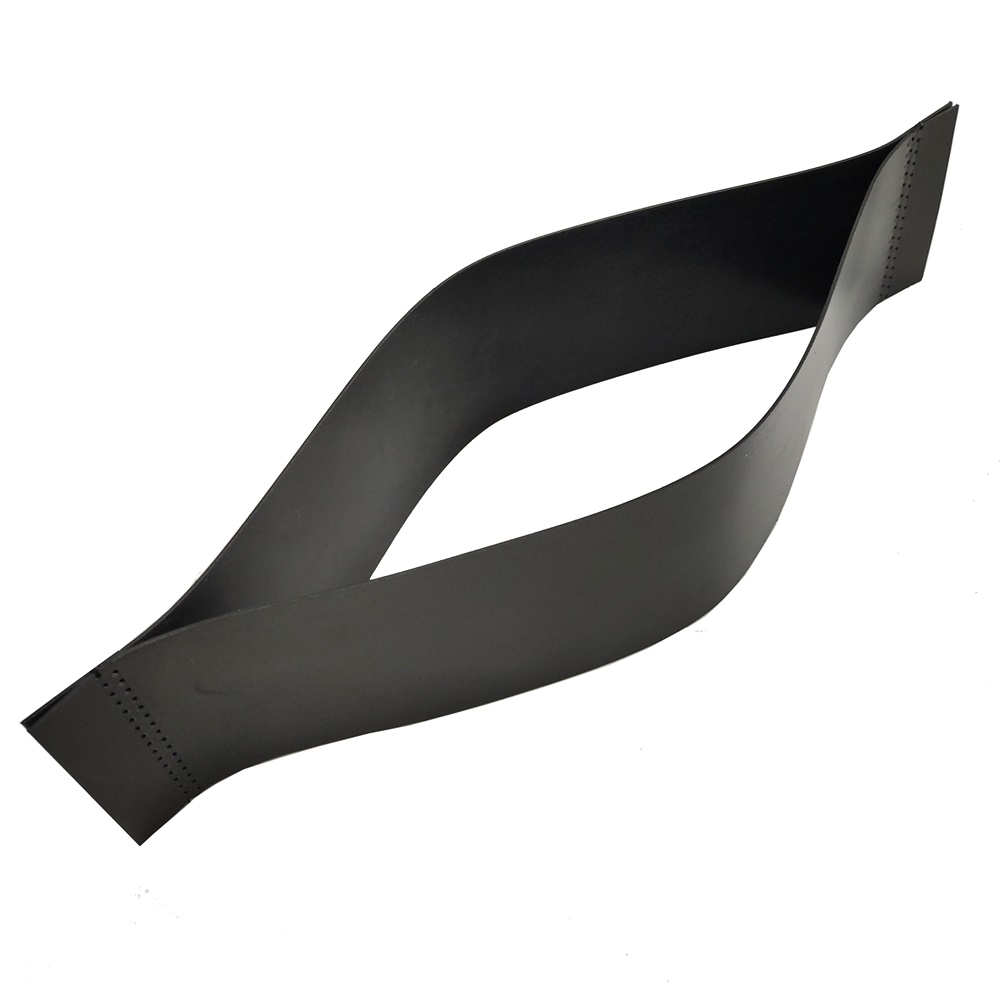 Smooth & Non-perforated HDPE Geocell
Product Details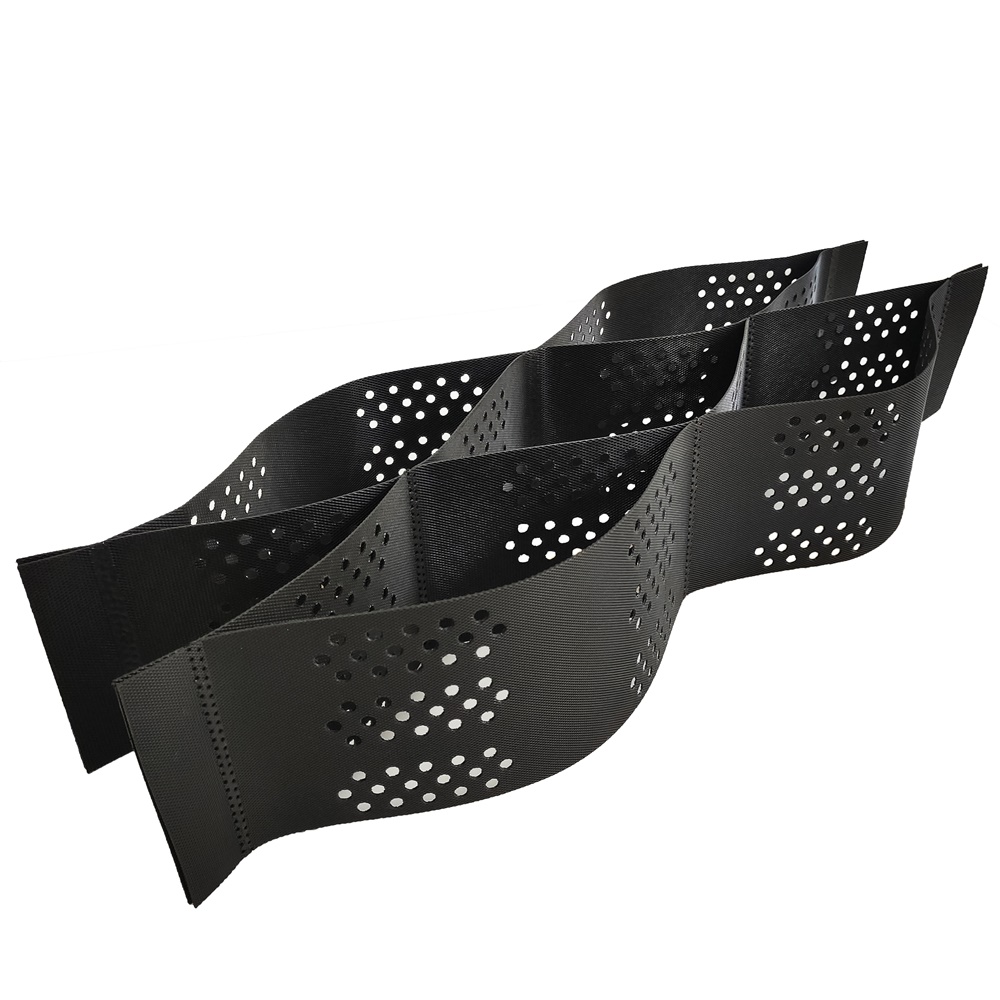 | | |
| --- | --- |
| Product Name | |
| Cell Depth |  50, 75, 100, 125, 150, 200mm |
| Weld Spacing | 330, 356, 400, 445,  660, 712mm |
| Thickness(Texturing) | 1.50, 1.52, 1.60mm |
| Thickness:(Smooth) | 1.10, 1.20mm |
| Colour | Black, Sand, Yellow |
| Standard | ASTM, ISO |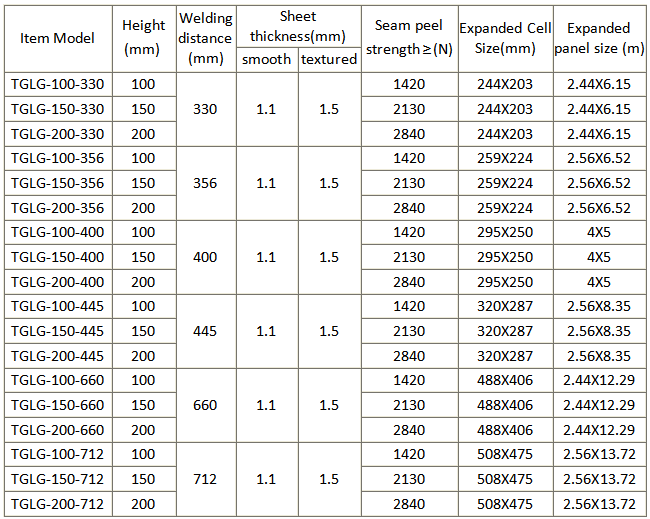 Introduction Geocell is a net-shaped cell structure made from high density polyethylene by welding high intensity thermoplastic sheet, it is flesible to fold during transportation, stretching out and being filled with stone or concrete during service, and fourming into structure with powerful lateral confinement and rigidity.  Production Display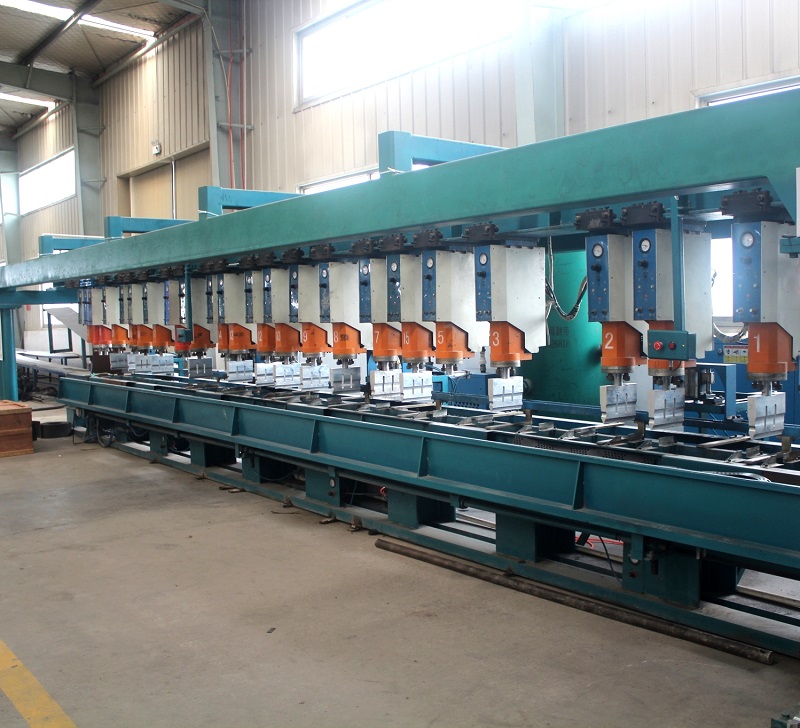 Packaging&Shipping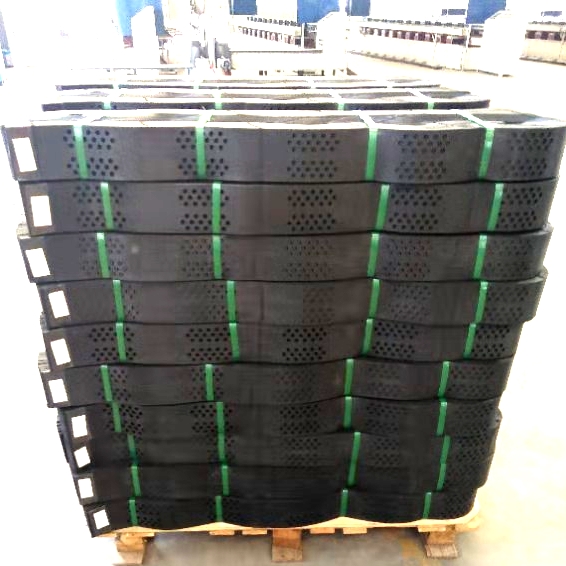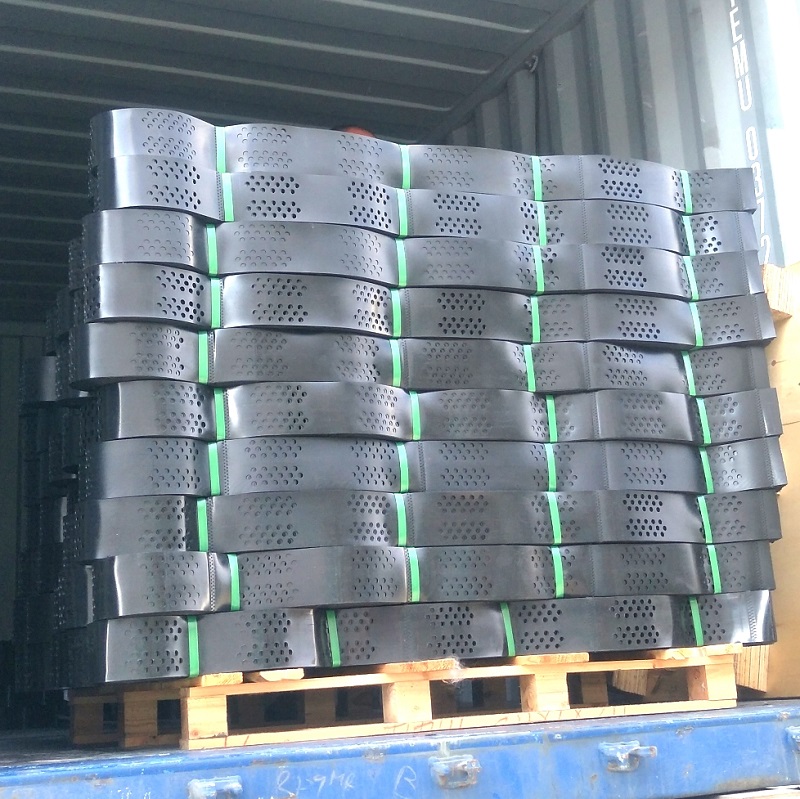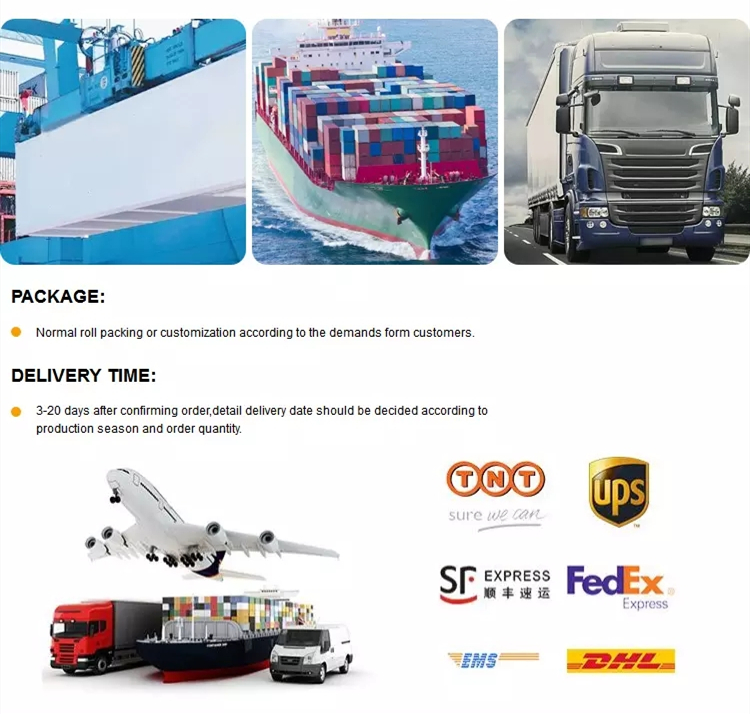 Application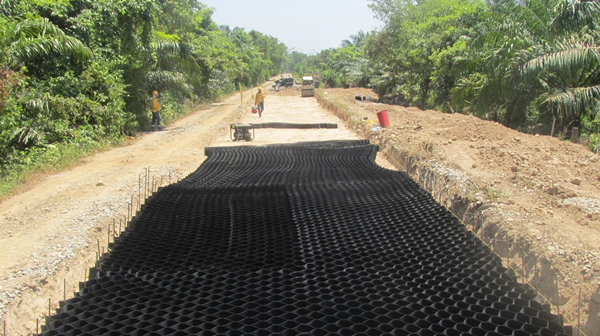 Load Support Cellular Confinement Systems have been used to improve the performance of both paved and unpaved roads by reinforcing the soil in the subgrade-base interface or within the base course. The effective load distribution of geocell creates a strong,stiff 3D cellular mattress which can reduce vertical differential settlement into soft subgrades, improves shear strength, and enhances load-bearing capacity, while reducing the amount of aggregate material required to extend the service life of roads. Gruound Stabilisation Cellular Confinement Systems strengthen the aggregate infill, thereby simultaneously enabling the use of poorly graded inferior material for infill as well as reducing the structural support layer thickness.Typical stabilisation applications include reinforcement of base and subbase layers in flexible pavements, including: roads, railway substructure and ballast confinement; working platforms in intermodal ports; airport runways.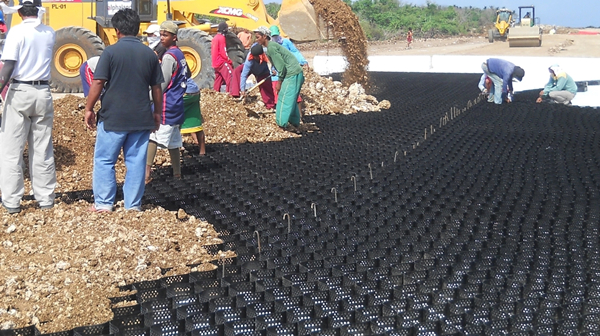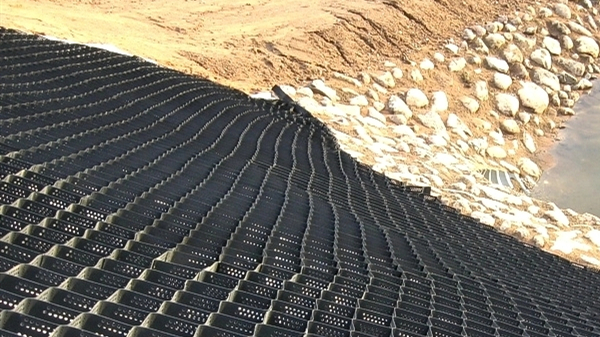 Slope Pretection The three-dimensional lateral confinement of Cellular Confinement Systems along with anchoring techniques ensures the long-term stability of slopes using vegetated topsoil, aggregate or concrete surfacing
Retaining Wall Cellular Confinement Systems provide steep vertical mechanically stabilized earth structures (either gravity or reinforced
walls) for steep faces, walls and irregular topography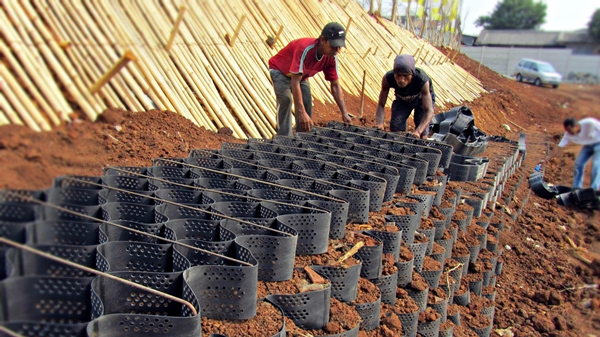 Company Introduction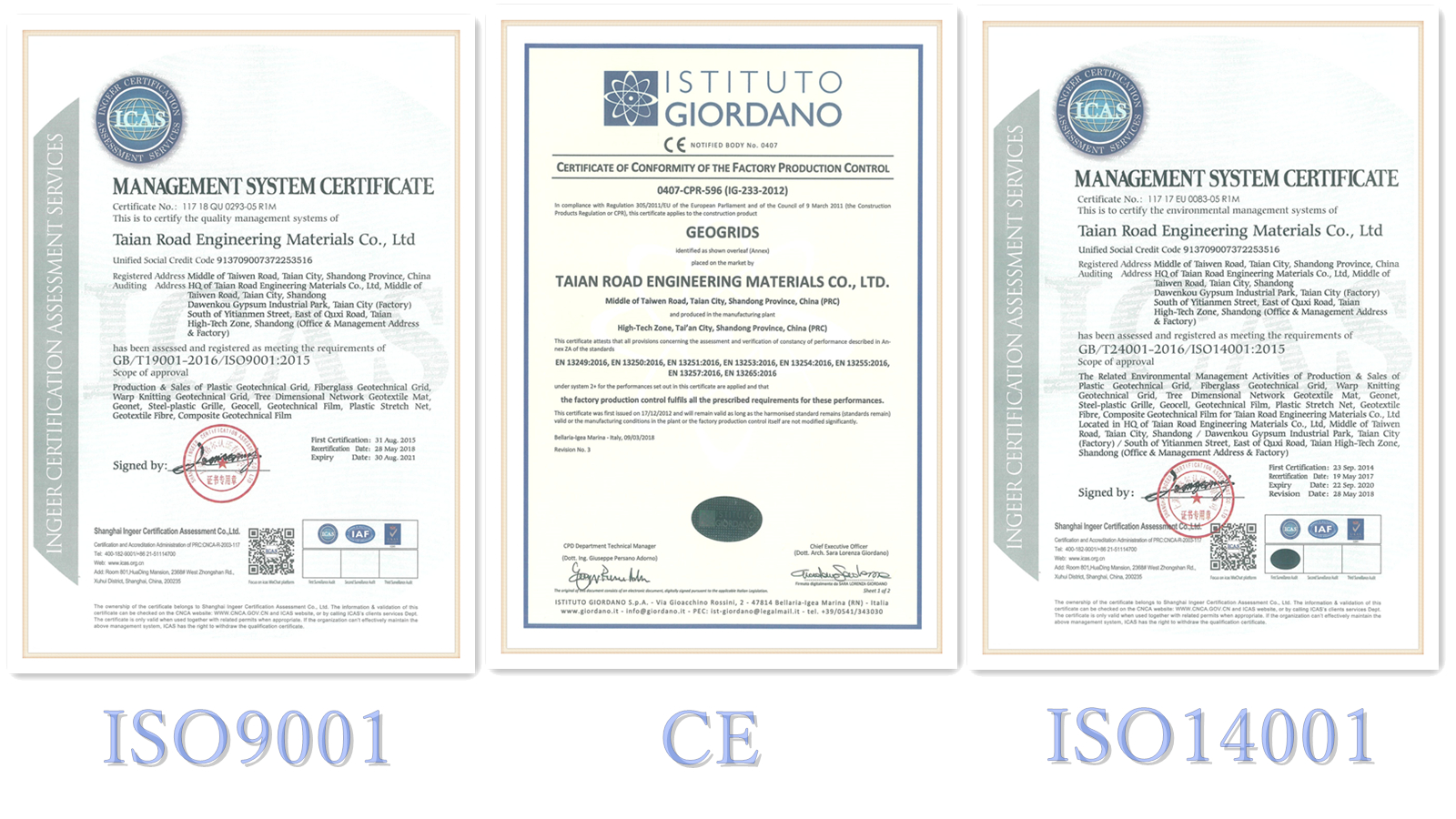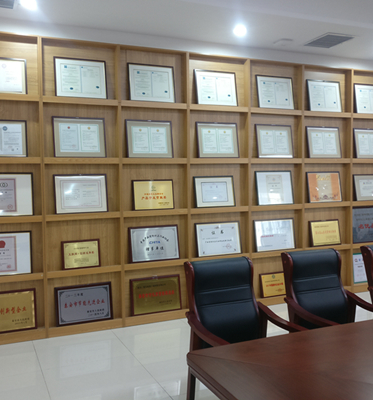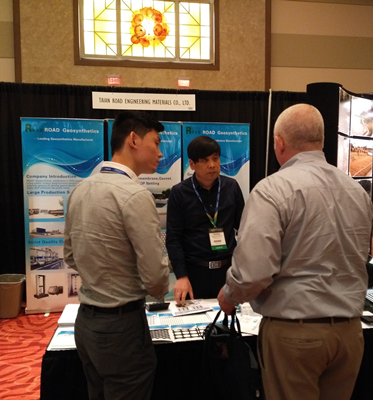 ROAD® Geosynthetics(Taian Road Engineering Materials Co.,Ltd), established in 2002, specialized in manufacturing plastic uniaxial geogrid ,
Biaxial Geogrid
,
Fiberglass geogrid
,
Polyester geogrid
, 3d geomat , geonet , geocell,
Geotextile
,
geomembrane
,
BOP stretched net
,
safety fence
. Products are mainly used in the foundation construction such as roadways, railways, irrigation works,electric power, water and land protection, and environment greening, etc.
ROAD® Geosynthetics, as leading manufacturer of geosynthetics materials, we have three plants, more than 40 production lines, with an annual production capacity of 300 million square meters, enables our company to provide customers excellent delivery time.
ROAD® Geosynthetics, as famous brand, our products has been exported to more than seventy countries and areas, such as Russia,Unites Kingdom, Italy, Poland, United States, Canda, Chile, Brazil, South Africa, Japan, Korea, Singapore and so on.
Best seller products Negotiation contact Tony Chen
Taian Road Engineering Materials Co.,Ltd
Add.: Middle of Taibo Street, Taian City, Shandong Province,China.
Post Code: 271000
M:+ 86 15588558831 T:+ 0086-538-8931611
WhatsApp/Wechat: + 86 15588558831 E: tony@talude.com.cnWebsite: www.taroad.com www.talude.com. CN Contact us if you need more details on hdpe geocell\/driveway grid. We are ready to answer your questions on packaging, logistics, certification or any other aspects about gravel grid、geocell pflaster gitter. If these products fail to match your need, please contact us and we would like to provide relevant information.
Product Categories : geocell > smooth geocell