5mm black 3d drainage geonet landfill usage drainage net
Product Description
#detail_decorate_root .magic-0{border-bottom-style:solid;border-bottom-color:#53647a;font-family:Roboto;font-size:24px;color:#53647a;font-style:normal;border-bottom-width:2px;padding-top:8px;padding-bottom:4px}#detail_decorate_root .magic-1{width:750px}#detail_decorate_root .magic-2{overflow:hidden;width:750px;height:470px;margin-top:0;margin-bottom:0;margin-left:0;margin-right:0}#detail_decorate_root .magic-3{margin-top:-164px;margin-left:0;width:750px;height:750px}#detail_decorate_root .magic-4{font-size:16px}#detail_decorate_root .magic-5{width:750px;border-collapse:collapse}#detail_decorate_root .magic-6{min-height:18px;padding:5px 10px;width:59px;min-height:18px;box-sizing:content-box}#detail_decorate_root .magic-7{text-align:center}#detail_decorate_root .magic-8{min-height:18px;padding:5px 10px;width:191px;min-height:18px;box-sizing:content-box}#detail_decorate_root .magic-9{min-height:18px;padding:5px 10px;width:36px;min-height:18px;box-sizing:content-box}#detail_decorate_root .magic-10{min-height:18px;padding:5px 10px;width:378px;min-height:18px;box-sizing:content-box}#detail_decorate_root .magic-11{display:none}#detail_decorate_root .magic-12{min-height:18px;padding:5px 10px;width:75px;min-height:18px;box-sizing:content-box}#detail_decorate_root .magic-13{min-height:18px;padding:5px 10px;width:79px;min-height:18px;box-sizing:content-box}#detail_decorate_root .magic-14{min-height:18px;padding:5px 10px;width:89px;min-height:18px;box-sizing:content-box}#detail_decorate_root .magic-15{min-height:18px;padding:5px 10px;width:73px;min-height:18px;box-sizing:content-box}#detail_decorate_root .magic-16{min-height:18px;padding:5px 10px;width:88px;min-height:18px;box-sizing:content-box}#detail_decorate_root .magic-17{min-height:18px;padding:5px 10px;width:377px;min-height:18px;box-sizing:content-box}#detail_decorate_root .magic-18{vertical-align:top}#detail_decorate_root .magic-19{vertical-align:top;display:inline-block;padding-right:4px;width:50%;box-sizing:border-box;margin-bottom:-4px;padding-left:4px;margin-top:-4px}#detail_decorate_root .magic-20{vertical-align:top;box-sizing:border-box;padding-top:4px}#detail_decorate_root .magic-21{width:371px;height:371px;overflow:hidden}#detail_decorate_root .magic-22{position:relative;left:0;top:0;width:371px;height:371px}#detail_decorate_root .magic-23{padding:0;margin:0;color:#333;font-size:14px;line-height:20px;font-weight:bold;white-space:pre-wrap}#detail_decorate_root .magic-24{vertical-align:top;padding-bottom:4px;box-sizing:border-box;padding-top:4px}#detail_decorate_root .magic-25{padding:0;margin:0;white-space:pre-wrap;font-size:14px}#detail_decorate_root .magic-26{margin-bottom:10px;overflow:hidden}#detail_decorate_root .magic-27{border-bottom-style:solid;border-bottom-color:#53647a;font-family:Roboto;font-size:24px;color:#53647a;border-bottom-width:2px;padding-top:8px;padding-bottom:4px}#detail_decorate_root .magic-28{padding:0;margin:0;color:#333;font-size:14px;white-space:pre-wrap}#detail_decorate_root .magic-29{vertical-align:top;display:block;padding-right:4px;box-sizing:border-box;padding-left:4px}#detail_decorate_root .magic-30{margin:0;padding:0}#detail_decorate_root .magic-31{overflow:hidden;width:373px;height:252.24124999999998px;margin-top:0;margin-bottom:0;margin-left:0;margin-right:0}#detail_decorate_root .magic-32{margin-top:0;margin-left:0;width:373px;height:252.24125px}#detail_decorate_root .magic-33{overflow:hidden;width:373px;height:252px;margin-top:0;margin-bottom:0;margin-left:4px;margin-right:0}#detail_decorate_root .magic-34{margin-top:-28px;margin-left:0;width:373px;height:279.75px}#detail_decorate_root .magic-35{padding:0;line-height:20px;font-weight:bold;margin:0}#detail_decorate_root .magic-36{overflow:hidden;width:750px;height:739px;margin-top:0;margin-bottom:0;margin-left:0;margin-right:0}#detail_decorate_root .magic-37{margin-top:0;margin-left:0;width:750px;height:739px}#detail_decorate_root .magic-38{overflow:hidden;width:373px;height:425.21999999999997px;margin-top:0;margin-bottom:0;margin-left:0;margin-right:0}#detail_decorate_root .magic-39{margin-top:0;margin-left:0;width:373px;height:425.21999999999997px}#detail_decorate_root .magic-40{overflow:hidden;width:373px;height:425px;margin-top:0;margin-bottom:0;margin-left:4px;margin-right:0}#detail_decorate_root .magic-41{overflow:hidden;width:750px;height:557px;margin-top:0;margin-bottom:0;margin-left:0;margin-right:0}#detail_decorate_root .magic-42{margin-top:0;margin-left:0;width:750px;height:557px} Product Description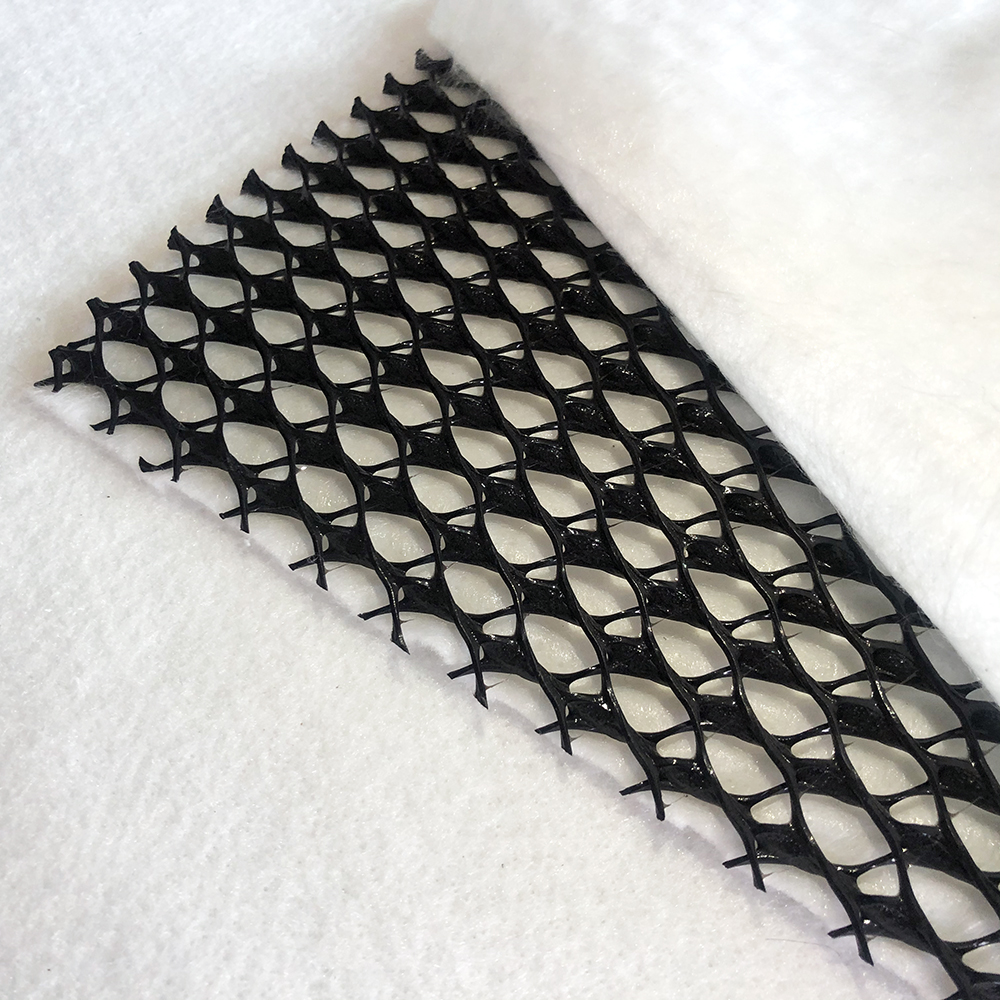 5mm black 3d drainage
geonet
landfill usage drainage net Three dimensional composites drainage network is a new type of drainage
Geotextile
material. It is one three-dimension
Geonet
composited with two needle-punched non-woven geotextiles. Three dimensional composites drainage network consists of atri-dimension thick vertical rib, and a inclined rip on the top and bottom. Double sided adhesive seepage geotextiles form a "filtration - drainage - ventilation - protection" overall performance, and can replace the traditional sand and gravel. Its pore maintenance system can drain underground water quickly, block the capillary water under high load in construction, keep certain thickness and provide good water conductivity property. At the same time, it can also play the role of isolation and foundation reinforcement. Mainly used in railway, highway, tunnel, municipal engineering, reservoir, slope protection and other drainage works, and the effect is remarkable. Product Parameter
| | | | | | | |
| --- | --- | --- | --- | --- | --- | --- |
| | | | | | | |
| | | | | | | |
| | | | | | | |
| | | | | | | |
| | | | | | | |
| | Tensile strength (core network) | | | | | |
| | | | Heavier grades of geotextiles can be bonded to geonet on request. | | | |
Feature&Application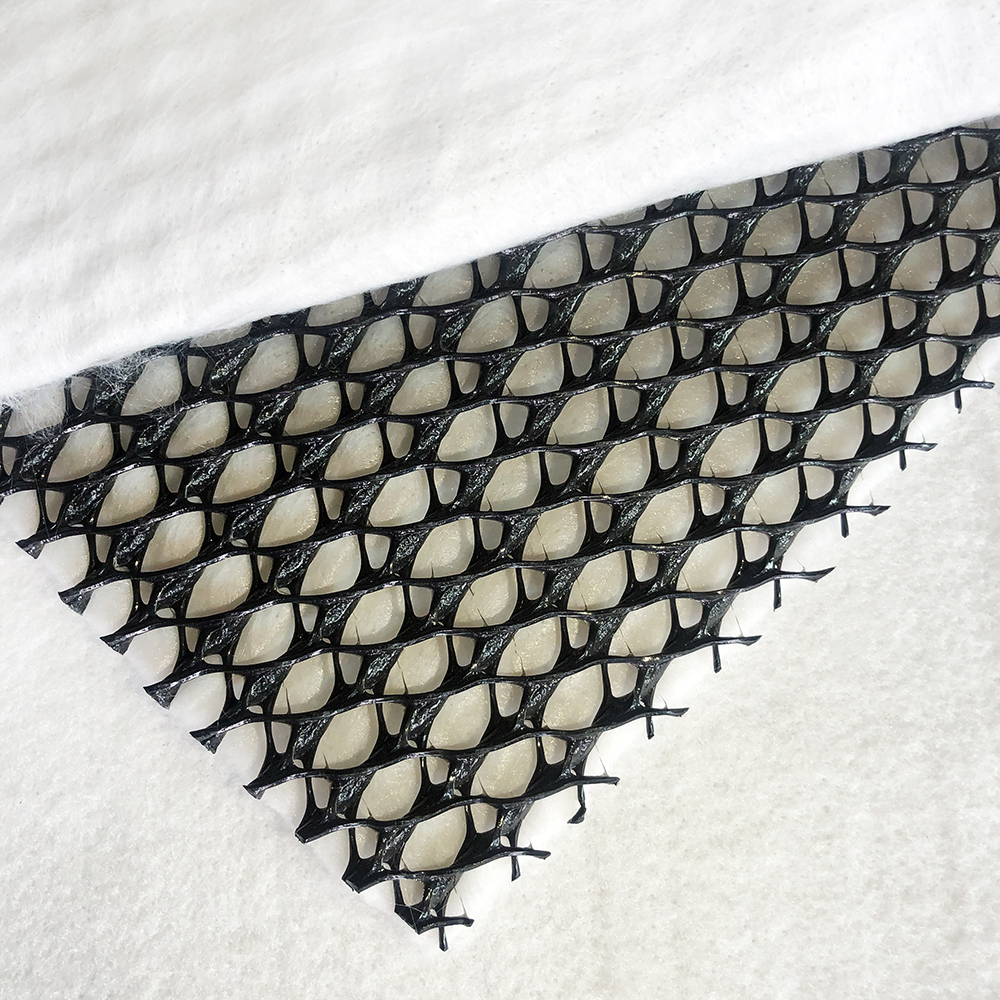 Features: 1.Keep long time stable water conductivity.
2.High tensile strength and shearing strength.
3.Anti-corrosion, anti-acid and long service life.
4.It can bear compression loading over 2000 KPa.
5. Excellent drainage function and long time high press loading.
6. Construction convenient, shorten the construction period and reduce costs.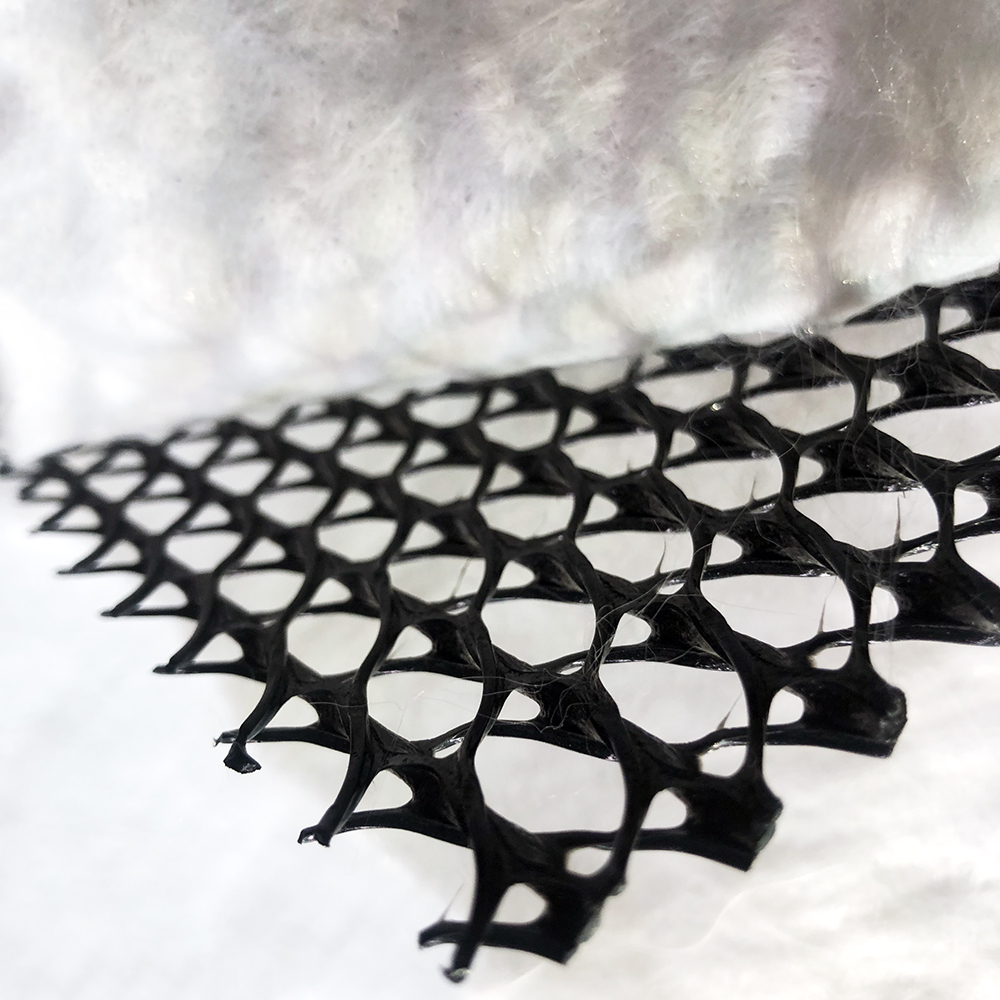 Applications: tunnel drainage.
landfill drainage.
railway drainage.
retaining walls drainage.
highway roadbed drainage.
underground structure drainage.
garden and playground drainage. Related Products Packing & Delivery Packing Detail: Three dimensional composites drainage network rolls can be packaged with woven bags.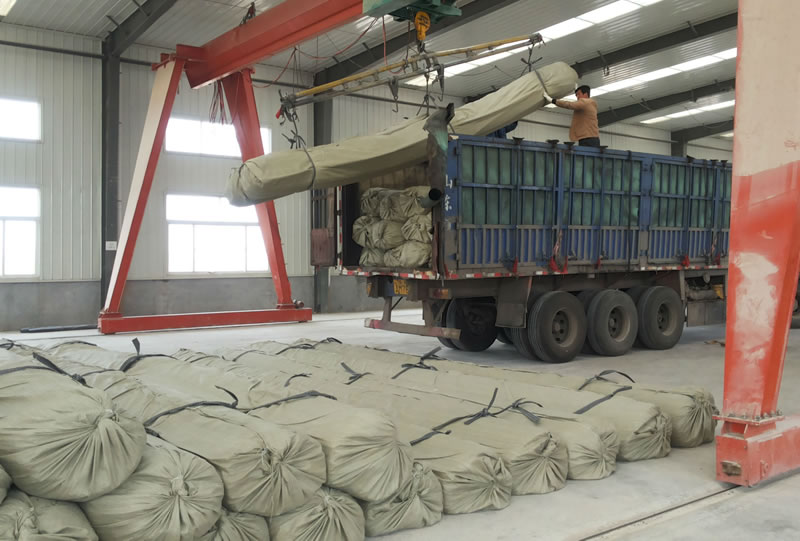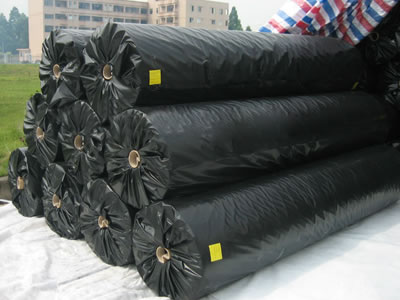 Delivery: Your satisfaction is our greatest pursuit!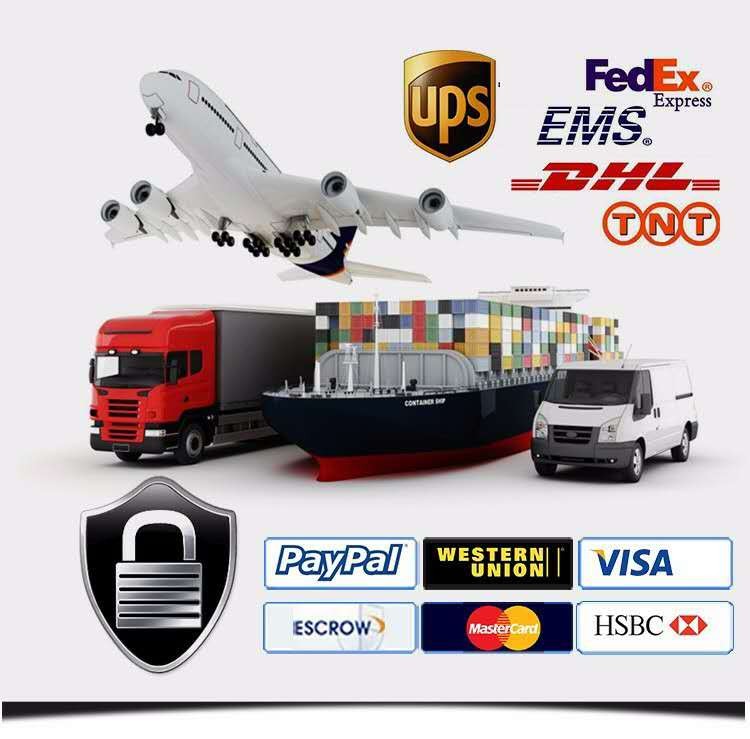 Client feedback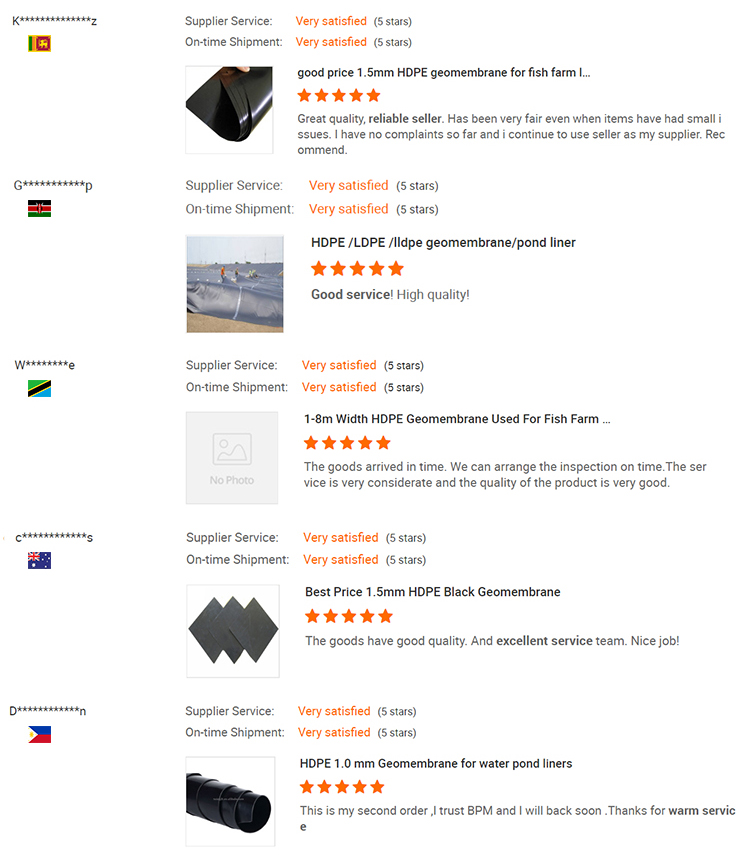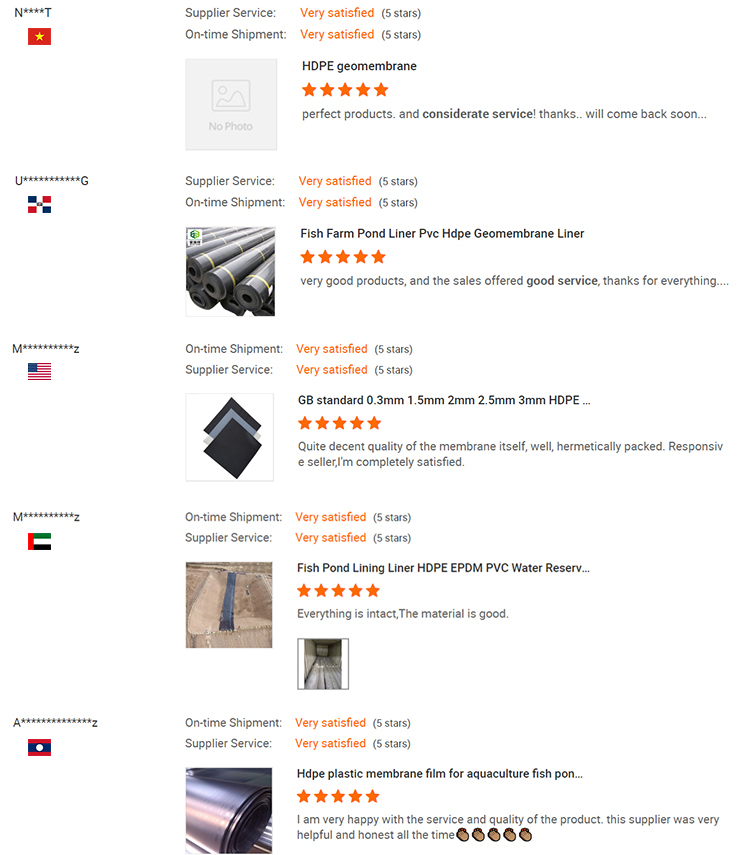 FAQ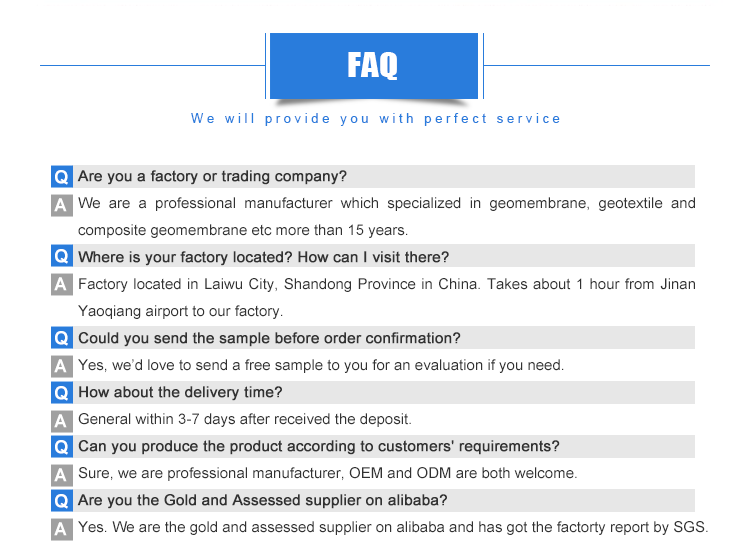 Contact us if you need more details on 3d drainage geonet. We are ready to answer your questions on packaging, logistics, certification or any other aspects about landfill drainage net、5mm 3d drainage geonet. If these products fail to match your need, please contact us and we would like to provide relevant information.
Product Categories : Composite Drainage Net